Overnight Boarding
Spacious  |  Natural  |  Comfortable 
Stay for a night, a weekend, or even a few weeks!
During their dogs' stay, owners have the choice of having their dogs stay in hostel-style, kennel-free boarding where dogs can enjoy the companionship of friends, individual or family-only boarding where dogs have their own private space, or crated overnight. Our goal is to reduce stress and create a home-away-from-home feeling, so we want dogs to sleep in the way they are most comfortable. 
Dogs will be boarded in a private kennel if requested by owners or if we observe any behavioral issues that might make combinations unsafe. 
Overnight Rates:
| | | | |
| --- | --- | --- | --- |
| | Weekday (Mon-Thu) | Weekend (Fri-Sun) | Holiday |
| 1 Dog | $45 | $52 | $58 |
| 2nd Dog Same Kennel | $30 | $35 | $40 |
| Private Kennel | +$5 | +$5 | +$5 |
Drop Off & Pick Up Hours:
7AM – 7PM EVERY DAY
Dogs picked up after 4PM will be billed for 1/2 day of daycare.
Please note that Drop Off and Pick Up times are scheduled appointments to reduce crowding at the kennel. Arrivals outside of your scheduled time may incur an additional convenience fee.   
 Please review our Cancellation Policies.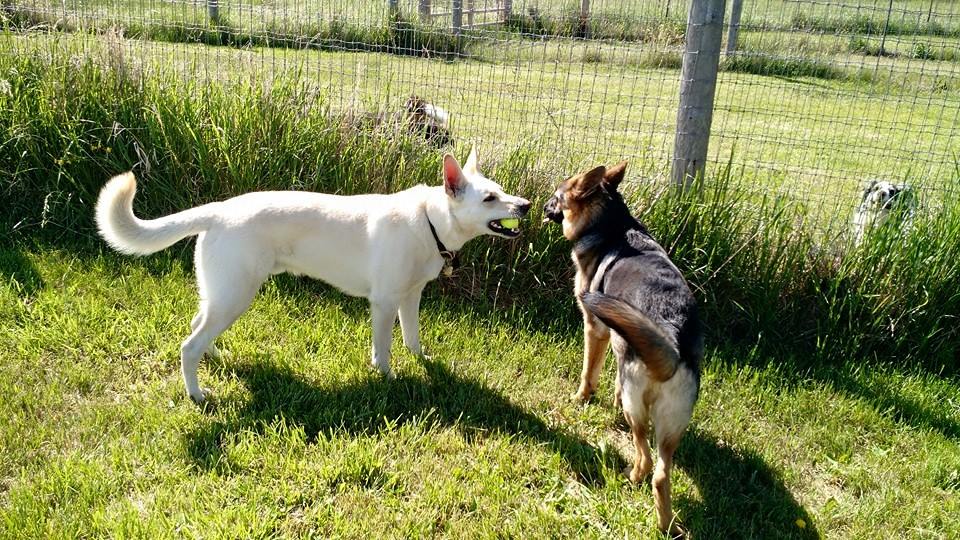 Our Standard of Care
Your dog will receive individual love and attention from our kennel staff, as well as environmental enrichment. Here's what dogs are treated to when they stay at WRCP!
24/7 staffing and supervision
Indoor-outdoor access between our natural-grass yards and heated/cooled barns
Individual attention by our kennel staff throughout the day
Day-time small play groups with other compatible dogs
Upgrades and extras available to make your dog's stay even more fun (see menu below)
Nightly Snuggle-Downs and biscuits before bed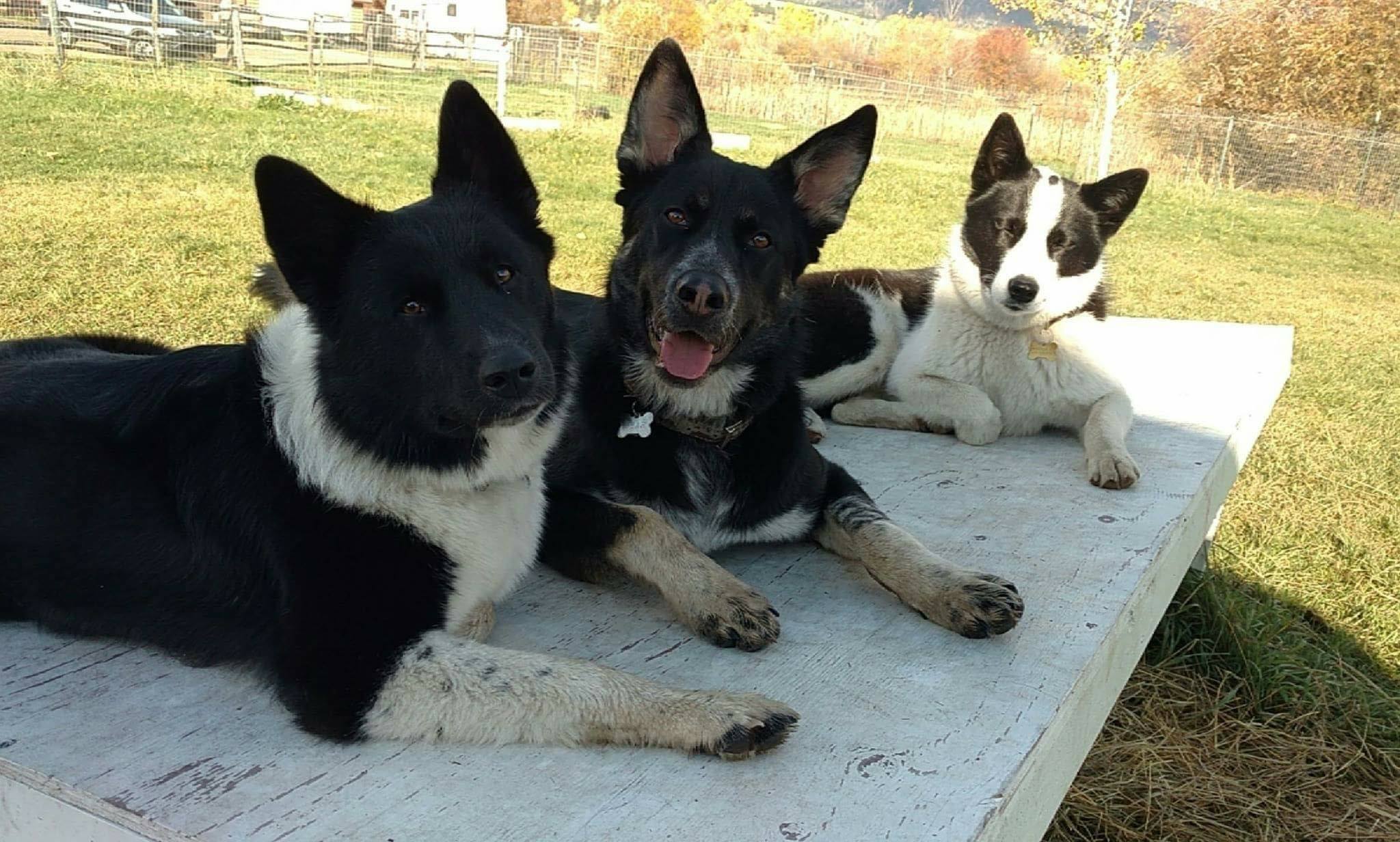 Click Here to view our Boarding Upgrades Menu!
Enhance your dog's vacation with us by adding any of the following "extras" to their stay!
Fun Walks – ($15) | Get your pup some exercise and enjoy all our beautiful 120-acre ranch has to offer. This is a 30 minute walk through our pastures where dogs can sniff, play in the pond or creek and enjoy being outdoors!
– 2nd dog (same walk) – $10
Personalized Attention – ($10) | Your dog gets individual attention by our kennel staff throughout the day, and snuggle-downs each night before bed. However, some dogs need or want that little bit of extra love. This upgrade can have our staff play a dedicated game of fetch, tug of war, extra-long snuggles at bedtime or just hanging out!
Sleepovers With Staff ($15) | This upgrade has your dog sleeping with humans in our overnight staff quarters. Get all the benefits of our big grassy yards during the day, and snuggle in with our staff during the night. Best of both worlds!
– Limited spaces available each night. Dogs who demonstrate destructive behavior (including not being housebroken), or show aggressive behavior towards humans or other dogs are not eligible for this upgrade.
– Second dog in same family can be added for only $10/night
Frozen Stuffed Kong ($5) | Let your pup enjoy a tasty treat that will also occupy their
brains! We stuff our Kong toys with a mixture of yummy wet food and biscuits and then freeze them so they last longer. (Please let us know if your pup has any allergies and we can make adjustments to the filling).
Puzzle Toy ($5) | Similar to the Kong treat, these puzzle-games for food are a great way to provide your dog extra mental stimulation. Three different games to choose from – ask our kennel staff to show you!
Basic Brush Out – ($10) | A basic brush-out/grooming while your dog stays with us – great for long-coated breeds, doodles, and others who may get a little tangled. Can also pair with a bath!
Bath ($20) | Our yards are all natural grass, which means there's also dirt and mud! Send your pup home squeaky-clean by scheduling a bath on their pickup day. Dogs will receive a bath approximately 1-hour before pickup time.
A la carte training options also available based on trainer's availability. Check with your trainer before scheduling!
Vaccination Requirements
We require documented proof of the following vaccinations on file prior to any dog visiting the facility.
Puppies must have at least their first two sets of DHPP vaccines and Bordetella and be at least 12 weeks old prior to utilizing our Puppy Yard, boarding, or training services.
Dogs over 16 weeks of age must have current DHPP, Rabies, and Bordetella Vaccines.
Exceptions to vaccination requirements:
In lieu of vaccinations, we will accept a FAVN Titer test certificate every two years for Distemper, Parvovirus, and Rabies.